Large Print Genealogy Bundle
FREE U.S. Ground Shipping for orders over $50!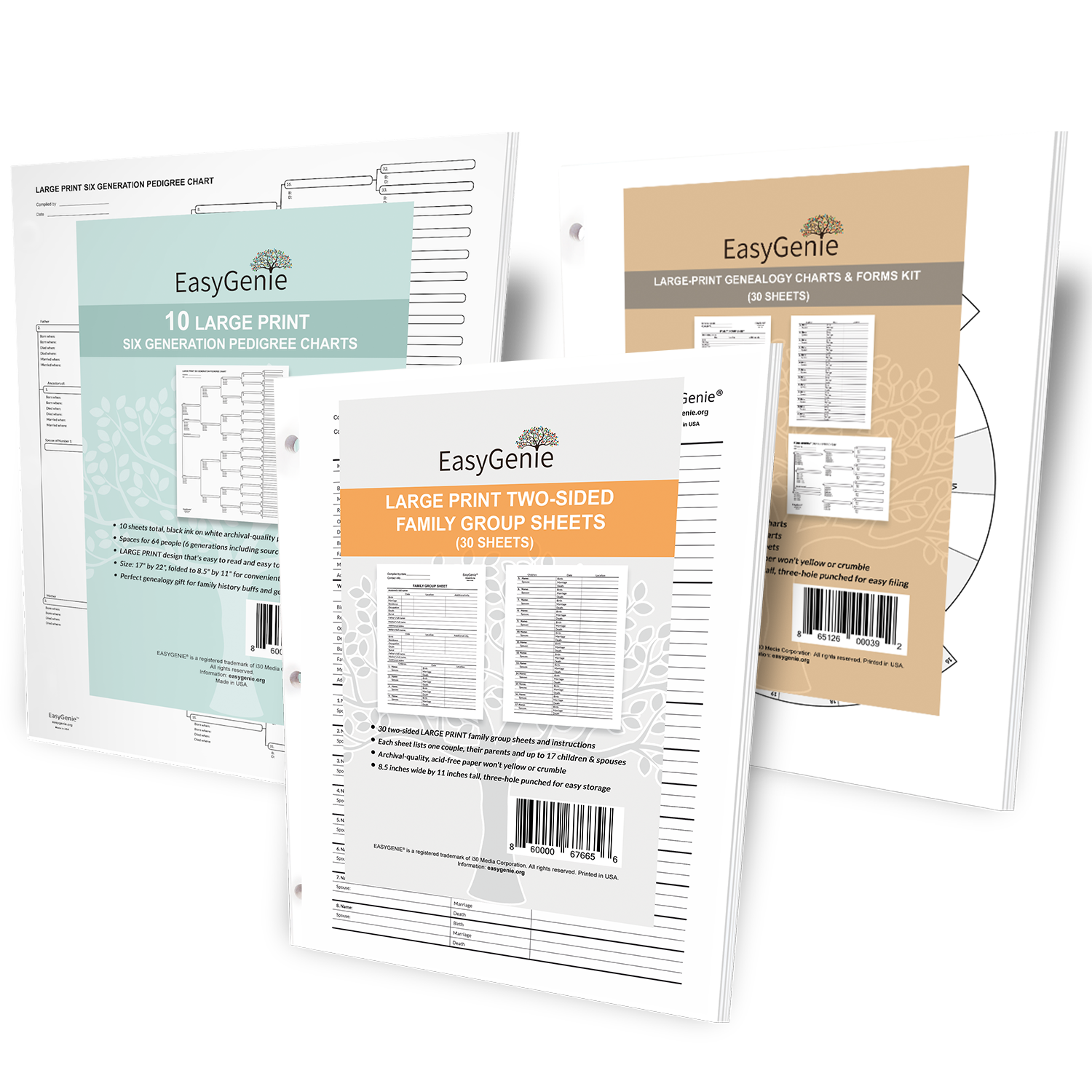 Preserve Your Family History
Large Print Charts & Forms Bundle
Easy-to-use genealogy charts and forms printed on acid-free paper to stand the test of time! The Large Print Charts & Forms Bundle by EasyGenie comes with three of our popular large print charts & forms kits:
• 30 double-sided large print family group sheets
• 10 large-format 6-generation pedigree charts (shown in photo)
• Basic large print forms kit (3 types, 30 sheets)

Unique genealogy charts and forms, designed by genealogists for genealogists!

EasyGenie genealogy charts will not only make a big impression, they are designed to stand the test of time

You've done the research ... now it's time to preserve & share your family's story!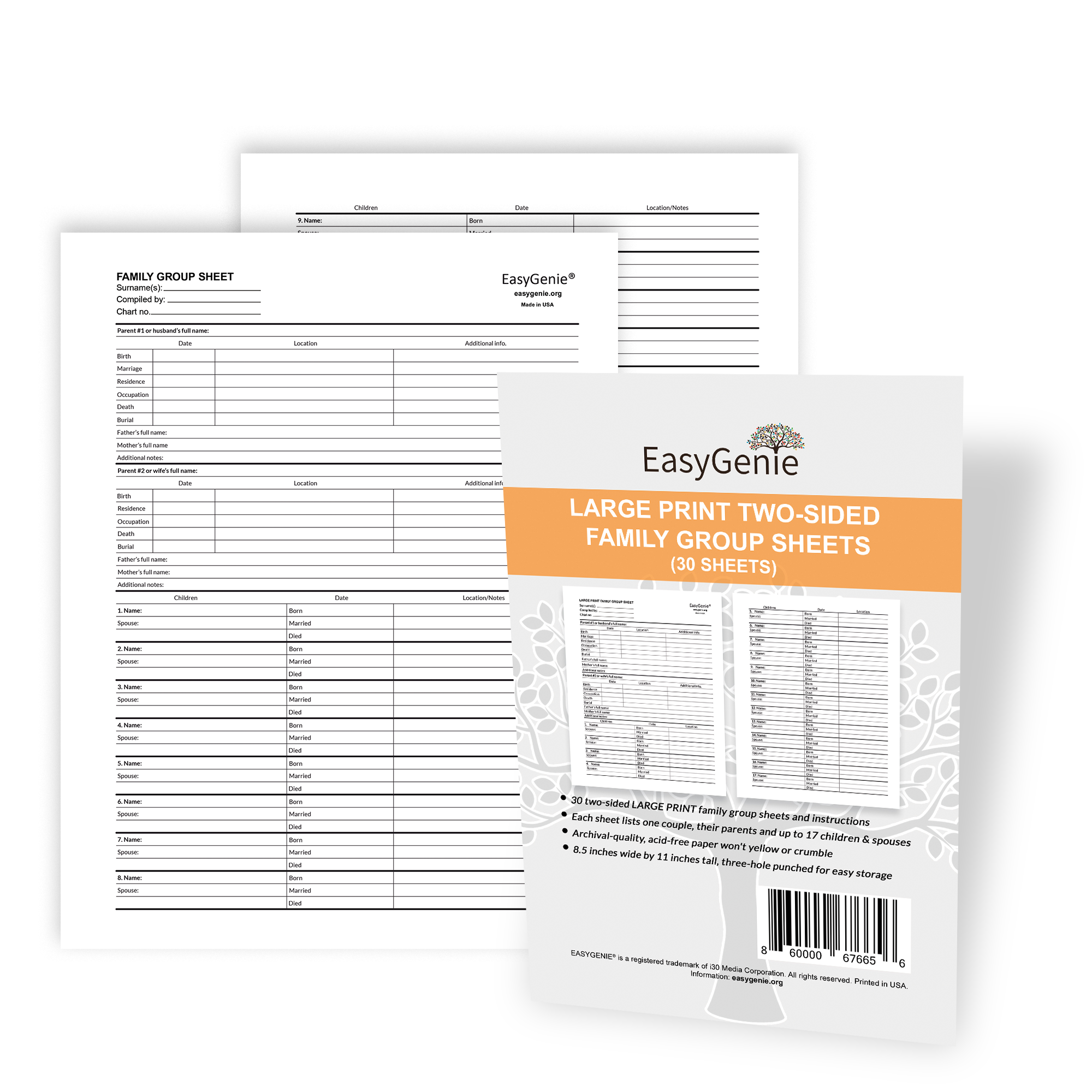 A package of 30 large-print family group sheets are included in the bundle.
While most family group sheets have room for just 8 children, the EasyGenie two-sided LARGE PRINT family group sheets can accommodate a family with up to 17 children, plus parents and spouses!
The 8.5 x 11 inch forms are printed on high-quality, acid-free paper, and will last for many decades if stored in a dry, cool place.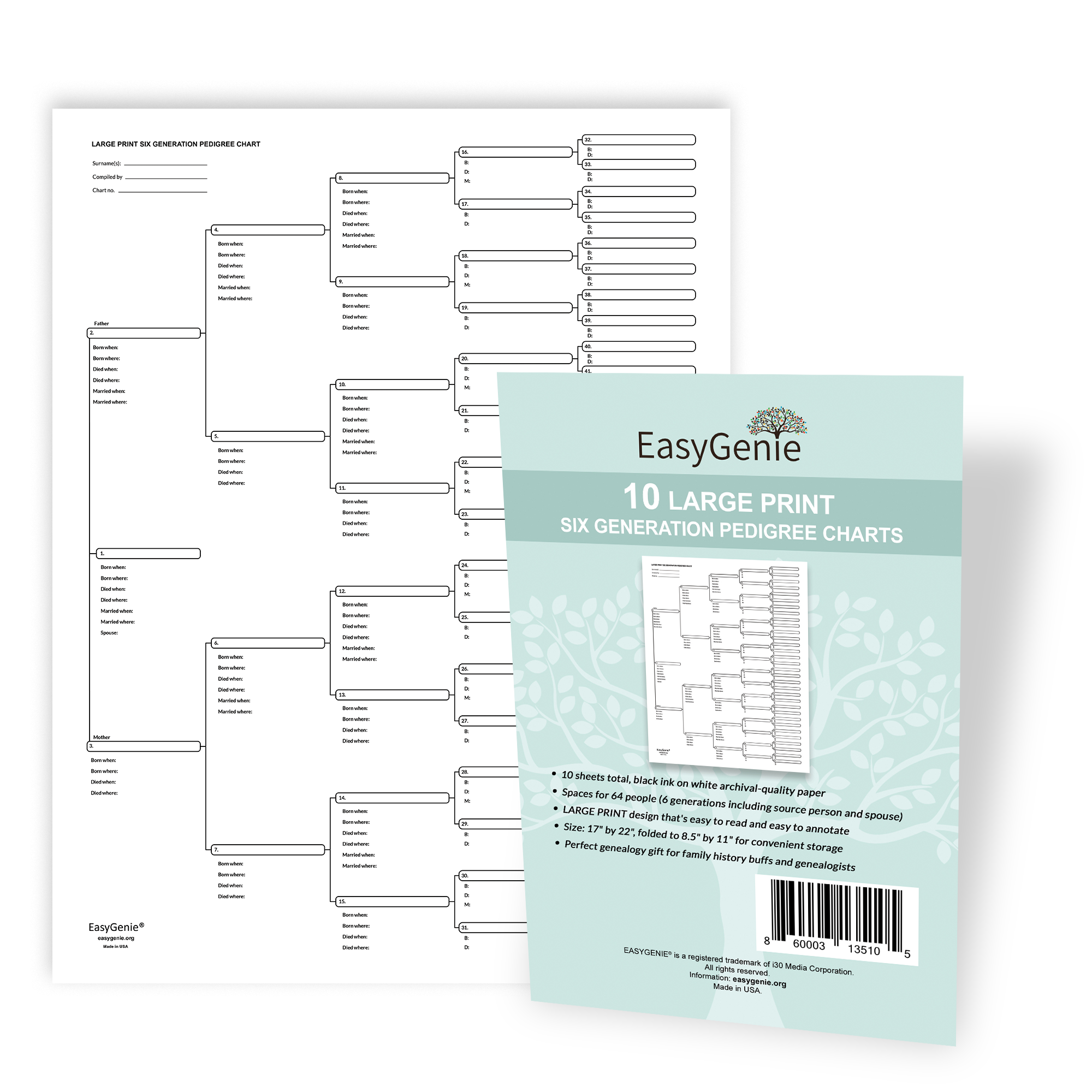 Generation Pedigree Charts


Ten blank LARGE PRINT and LARGE SIZED pedigree charts are included in the bundle. The spaces are easy to write in, and easy to read!
Use the EasyGenie large print 6 generation pedigree charts to track 2 parents, 4 grandparents, 8 great-grandparents, 16 great-great-grandparents, and 32 great-great-great grandparents.
Size: 17 x 22 inches, folded to 8.5 x 11 inches for easy storage and shipping.
EasyGenie's basic Large Print Kit is included in the Large Print Charts & Forms Bundle, with three different types of genealogy charts and forms to preserve your genealogy research. The kit Includes the following large print sheets (8.5 x 11 inches):
• Four-generation pedigree charts (10 sheets)

• Five-generation split fan charts (10 sheets)

• Family group sheets (10 sheets, two-sided)
"I'm not doing it for just myself. I am doing it for my children and grandchildren, giving them a huge head start!"
"My relatives aren't interested in clicking around my 560-person tree on Ancestry. I need a paper equivalent."
"I started with the 6-generation large print charts. I am sending copies to siblings and cousins next week."
"These paper charts are awesome for keeping things straight."
"I love having my EasyGenie charts to have a full visual of my lineage."
"So easy to work with! Keeps everything at my fingertips!"